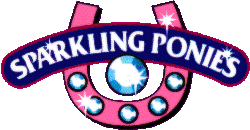 Hair Decoration Guide

---
One of the most frustrating obstacles towards completing the Sparkling Ponies (and one Dazzling Hair) sets is finding the elusive "sparkling" pony hair decorations. Not only were they so very easy to lose, but in many instances no one can remember which went with what set (or even that they came with Littlest Pet Shop at all!) So, here is a guide to the hair accessories for these sets. Please note that these pictures are not to scale. Most are enlarged to show detail. Many thanks go to Leah, unicorn4484, flipdat, and Alie on the Kenner Littlest Pet Shop Forum for providing me with these images of their collections. Also, if anyone has any information to add or additional images to contribute, feel free to contact me!
---
Sparkling Ponies (1994)

Pinto Pony






Notes: On the packaging, this decoration is pictured orange.




Crystal Pony






Notes:


Sky Blaze Pony






Notes: Identify this decoration based on its shape - it's the only glittery one having 11 points with the slit cut through one of them. The color is EXTREMELY variable. It is usually 2 or 3 of the following colors: purple, pink, green, blue, and gold.



Mystic Pony






Notes: This pony only came with ONE (1) decoration, usually the purple. The orange starburst seems to have been a (German?) variation. This decoration is same cut-out shape as the Sky Blaze Pony's decoration.



Sparkling Pony Pairs (1994)

Sweetheart Ponies
with Moonglow Stable





Notes: The blue decoration is glittery
The purple decoration attaches with velcro.


Champion Ponies
with Jumping Contest




Notes: Both attach with velcro


Prancing Parade Ponies
with Treasure Trunk




Notes: The pearly purple decoration attaches by velcro (stitched on).

Sparkling Pony Pairs (1995)

Royal Carriage Ponies




Notes:


Ice Palace Ponies




Notes: Identical or VERY similar to those with Royal Palace Ponies.

Sparkling Pony Babies (1995)

Lil' Saddle Filly




Notes:


Lil' Wash 'N Pretty Filly




Notes:


Lil' Brush 'N Grow Filly
(Ruby)




Notes: From a German Ruby. Seems to be made of the similar material as Royal Carriage Pony hair decorations. I do not know if the decoration shown on the package (see below) exists. Is the German one a variant?






Lil' Magic Drinkin' Filly




Notes:

Dazzling Hair Pets (1996)

Royal Palace Ponies




Notes: Identical or VERY similar to those with Ice Palace Ponies.

---