Sparkling Pony Pairs
(1994)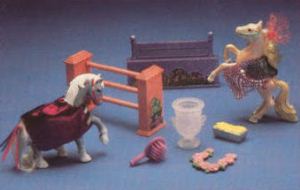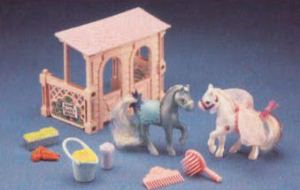 ---
"What could be better than a new LITTLEST PET SHOP pony friend? Why, two little ponies! Each comes with beautiful, shiny mane and tail, a sparkly jeweled paw print brand, and lots of pretty accessories. Double the ponies means double the fun!"

---
Name of Set
Pet Description
Accessories
Action

Champion Ponies
with Jumping Contest

Grey pony with white spots on back and white sparkly hair; magenta halter and pink jewel paw-print brand on side
Tan pony with sparkly gold hair; aqua halter and pink jewel paw-print brand on side

Peach jumping hurdle with three lavender bars
Lavender jumping hurdle
Black saddle
Silver and lavender fabric blanket
Magenta fabric horse blanket with silver straps
Bright pink brush
Transparent glittery trophy
Pink and green plastic rose garland
Silver food trough with lavender and mint green food

"Win Top Honors In Pony-Jumping Show!"
"Little pony wants to look her very best for the big jumping contest! Style her hair and help her get dressed 'til she's as pretty as can be!"
"Up and over! Pose pony's hind legs so she rears up, then help her make the big jump over the fence in show-stopping style."
"This happy pony is so pleased with her performance she can hardly contain herself! She kicks her leg up in the air when you turn the wheel hidden in her mane back and forth."
Name of Set
Pet Description
Accessories
Action

Prancing Parade Ponies
with Treasure Trunk

Brown pony with black highlights and black hair with pink sparkles; aqua harness and blue jewel paw-print brand on side
Gold/orange pony with white highlights and gold/orange hair with sparkles; purple harness and blue jewel paw-print brand on side

Note: Your horses should be the opposite color and pose combination of those pictured at the top of the page. Evidently promotional photo featured prototype versions.

Sparkly blue hair decoration [link]
Two pearlized violet fence posts with a pink fabric strung between them (some sets have a white plastic bar instead)
Pearlized violet bucket of yellow hay
Larger metallic silver bucket with paw-prints on handles
Large blue chest
Peach-pink brush (sponge)
Aqua comb (NOT yellow, as is pictured above)
Navy blue cloth necklace with a frilly white decoration
Silver metallic fabric blanket with shiny circle pattern
Dark fabric blanket with silver flowers
Pearly white saddle
Aqua plastic blanket (saddle)

"A Trunkful Of Beautiful Parade Clothes!"
"The Prancing Parade Ponies can't wait to get dressed up in their beautiful parade clothes and show off for you. You'll have so much fun helping them try on all their sparkling decorations and grooming their flowing manes and tails!"
"This sweet pony nods her head with happiness when you brush her pretty face from her ears to her nose and back again!"
"What a clever pony! Push down on her head and she bobs her silky tail."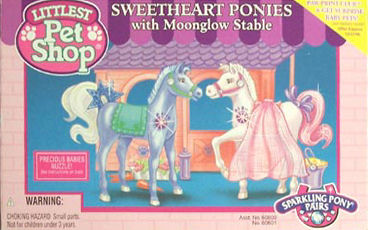 Name of Set
Pet Description
Accessories
Action

Sweetheart Ponies
with Moonglow Stable

Grey baby pony with sparkly white hair; pastel green harness and lavender jewel paw-print brand on side
White baby pony with pale pink highlights and white hair with pink glitter; pink harness and lavender jewel paw-print brand on side

Pink conjoined stalls with lavender roof (some assembly required)
Mint green brush
Mint green comb
Pink saddle with pink veil bow
Aqua saddle
Metallic silver food trough with yellow and purple food
Pearlized lavender bottle
Pearlized lavender bucket with yellow hay
Solid orange carrots

Note: Set pictured at the top of the page seems to be a prototype version.

"Precious Babies Nuzzle!"
"Baby ponies need your loving attention. Make little boy pony oh-so-happy when you brush his long, silky tail and decorate it with a glittery star!"
"The Sweetheart Ponies are the very best of friends! See how they nuzzle each other when you rub their cute little noses together?"
"Look who's peeking out of the cozy stable--two sweet baby ponies who are looking for a bit to eat. How about some yummy clover, little babies?"
---
Package Variation: Some places (the UK, I think) sold these sets with a different package design (the ponies were given names).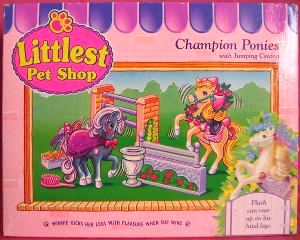 ---