---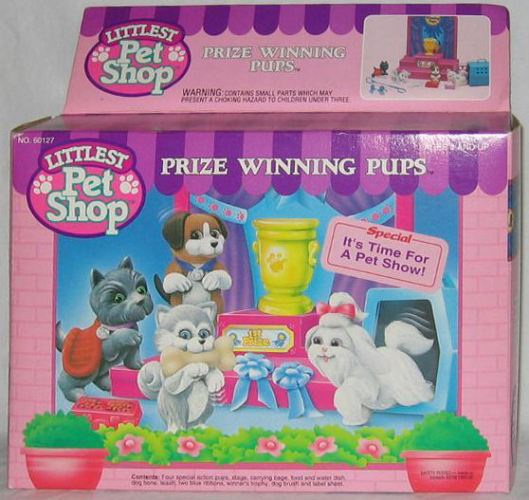 Name of Set
Pet Description
Accessories
Action

Prize Winning Pups


Black Scottie Puppy; red collar with silver paw-print

Beige Shih Tzu with pink bow; purple collar with silver paw-print

Grey and white Siberian Husky Puppy; teal blue collar with silver paw-print

Brown and white puppy; blue collar with silver paw-print

Note: The Japanese version of this set has a white scottie with eyes painted in the dot style.






Aqua plastic carrier with violet door

Magenta plastic stage

Magenta plastic frame

Cardboard two-sided background

Yellow plastic trophy

White plastic bone

Red plastic dog coat/sweater

Violet bone-shaped grooming brush

Red food/water dish

Blue plastic leash

Blue plastic collar

Two (2) blue plastic ribbons (attach like collars/bows)

Label sheet

Instructions


"It's Time For A Pet Show!"

Brown and white dog lifts ear when tail is pushed down

Shih Tzu wags tail when pushed forward

Grey and white dog "chases" bone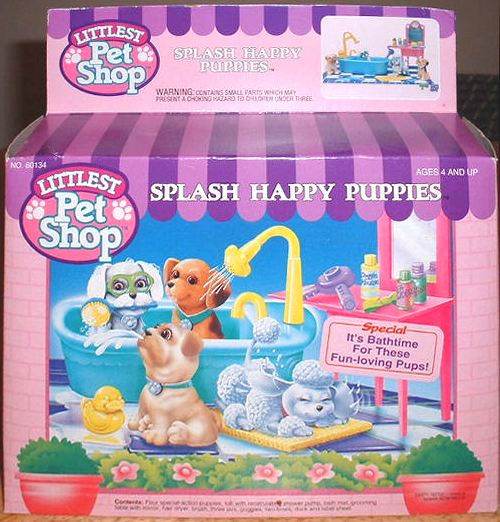 Name of Set
Pet Description
Accessories
Action

Splash Happy Puppies
(UK: Splash Around Puppies)


Grey Poodle Puppy with blue eyes; hot pink collar with silver paw-print

White Terrier Puppy with purple eyes; silver paw-print

Brown Golden Retriever Puppy with brown eyes and muddy spot: blue collar with silver paw-print

Beige Pug Puppy with brown eyes made of squishy rubber; silver paw-print


Aqua plastic bathtub with yellow recirculating shower pump and yellow faucet

Pink plastic grooming table with mirror

Plastic bathmat (blue and white tile floor)

Purple hairdryer

Green goggles

Green sponge brush with long handle

Yellow bottle

Green bottle

Purple bottle

Purple bow

Green bow

Yellow duck

Label sheet

Instructions [PDF]


"It's Bathtime For These Fun-Loving Pups!"

"Splish, Splash, what's more fun than four puppies taking a bath? These special action puppies come with everything you need for hours of bathtime and grooming fun! They even come with a real shower, vanity, and lots of grooming accessories. They need you to give them a bath and play with them!

"Just put the dirty golden retriever in the tub, fill it with warm water, push down the faucet, and he will be showered with water. Watch as his mud spot magically washes away!"

"The adorable terrier loves to be shampooed! Remember to put on his googles to protect his eyes! Shampoo not included."

"Just squeeze the silly pug and he squirts his friends in the tub. He is so funny!"

"The little poodle shakes her head dry after playing in the tub."

---
Package Variation: In Europe these these sets had a different package design.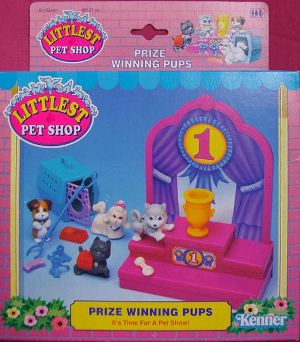 ---