Fancy Curls Carousel Playset
(1995)

---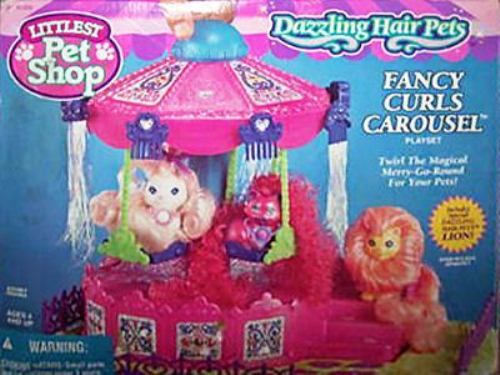 Name of Set
Pet Description
Playset and Accessory Description
Action

Fancy Curls Carousel Playset


Yellow lion with long curly orange hair; orange paw-print on back


Pink plastic carousel bottom

Pink plastic carousel top

Blue plastic center pole

Blue plastic cap

Green plastic base

Three purple plastic railing pieces

Four (4) purple and green plastic swings


Four (4) purple barrettes with tinsel (2 of each design)

Four (4) purple combs (2 of each design)

Label sheet

Instructions [PDF]


"Have some fun with your pet on the carousel. Once the pet is seated in a swing, you can swing it or turn the cap for a carousel ride."

Note: Collectors of G1 My Little Pony will recognize this playset as being a recolor of the 1990 "Prancing Pretty Carousel" Playset made for the My Little Pony Petite Ponies (G1).

---