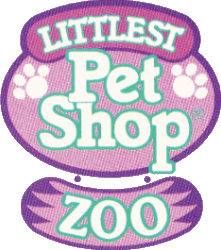 Playset
(1994)
---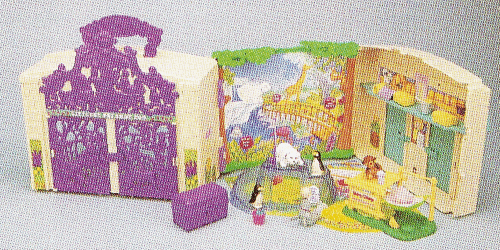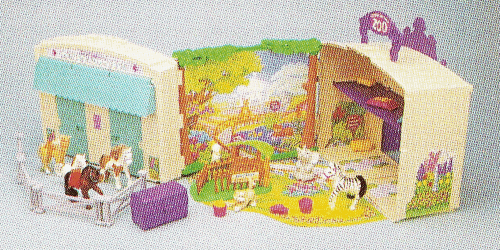 ---
"Enter the beautiful gates and discover a magical home for all your Zoo friends! You'll find the perfect spot for each of your Zoo pets -- a wintry playland, a feeding area, a petting zoo, a safari land, plus lots of fun pet-sized accessories!"

---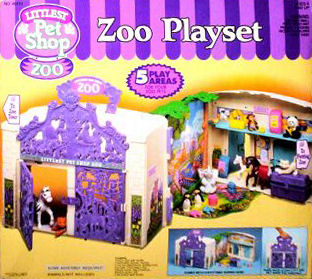 Name of Set
Pet Description
Playset and Accessory Description
Action

Zoo Playset

(UK: Zoo Carrycase)
(Italy: Parco di Cucciolandia)


Beige plastic playcase with purple carry handle* and slide latches

Purple plastic front decoration*

Two (2) purple plastic front gates

Two (2) aqua plastic barn doors

Aqua plastic awning

Purple plastic interior shelf*

Aqua plastic interior shelf

Green plastic grass base (frame)

Two (2) brown plastic tree trunks (frame)

Green plastic tree top (frame)

Two (2) removable pieces of green plastic tree top foliage

Purple plastic chest

Two large bags with labels*

Small bale of hay*

Bag of peanuts*

Solid-colored bucket of fruit*

Bamboo stick*

Bunch of bananas*

Two fish*

Cardboard grassy playmat (cut from box) [Scan]

Label sheet

Instructions [PDF]

Note: The accessories marked with an asterisk (*) were those that came in varying colors: either bright yellow, aqua, and hot pink. Of these nine small pieces, there should be 3 of each color. The distribution between sets was apparently completely random.


"5 Play Areas For Your Zoo Pets

"A Magical Place For Your Zoo Friends!"
---
Package Variation: In Europe these this playset had a different package design.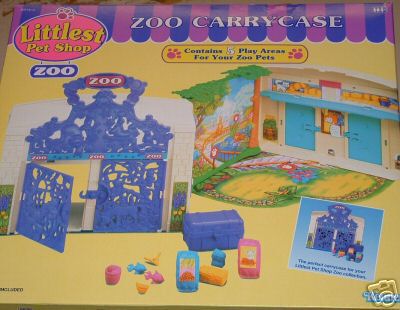 ---
*Playset Variation: In Italy, the playset case used hot pink instead of purple (1995).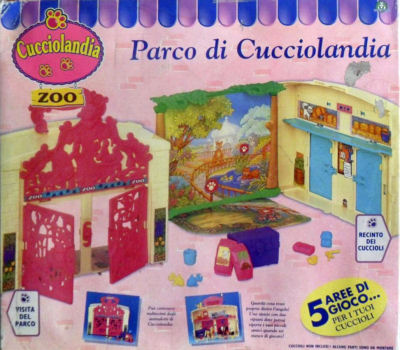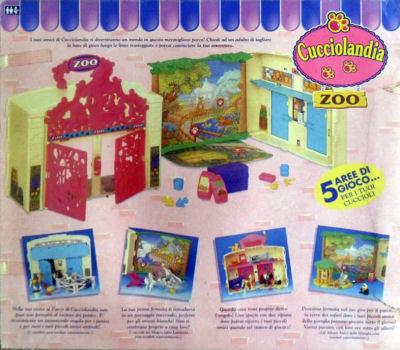 ---
The shape of this playset may seem somewhat familiar to some My Little Pony (G2)fans. A similar case was seen in 1997 - the "Pony Garden Playcase" by Kenner/Hasbro.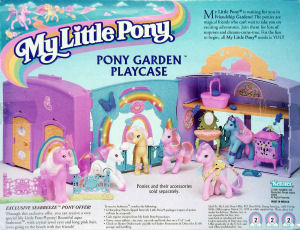 ---