Littlest Pet Shop Tea Set
(1994)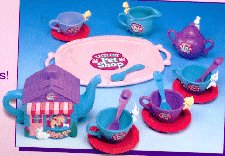 ---
Kid Dimension Inc. (a subsidiary of Hasbro Inc.) voluntarily recalled this particular item (No. 27310) in 1994. The reason cited was that the "Hangimal" animals attached to the teapot and sugar bowl were removable and thus "posed a potentially serious choking hazard to young children." The figures on the cups and creamer were not seen to be a problem as they were permanently affixed. To resolve this problem the company modified product slightly and resold it in packaging that was modified to indicate it was the post-recall version. Specifically, a label was attached that read "Contains No Small Parts." (See photo of box below).

How to tell if your teaset is the Recalled Version:
The teapot and the sugar bowl have animals attached to them, as seen in the catalog photo shown above. The tea sets issued post-recall did not come with the two previously problematic animals at all. (Notice the circular blue "Contains No Small Parts." sticker placed on the post-recall box where the lid of the sugar bowl - with white bunny - should be). That seems to be the only difference between the two sets.

---
Item
Description

Tea Set

Includes:
--A pink platter with Littlest Pet Shop logo
--Four pink plates
--Two purple cups with a cream cat on the edges
--Two aqua cups with a white bunny on the edges
--Aqua cream container with a cream cat on the edge
--Purple sugar pot with white bunny on the edge
--Aqua teapot with a purple roof and petshop scene on front

---
---
---