Star Styles Pet Salon Playset
(1995)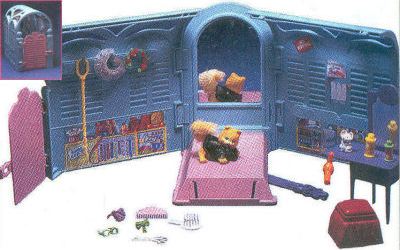 ---
"There's glamour in the air--at the Star Styles Pet Salon™! It's the one place where you can make your favorite pets look their absolute cutest in the hair salon and dressing area, then put on a big fashion show for all to enjoy! The Salon is full of two friendly pets, pretty fashions, and adorable accessories for endelss dress-up play!"

---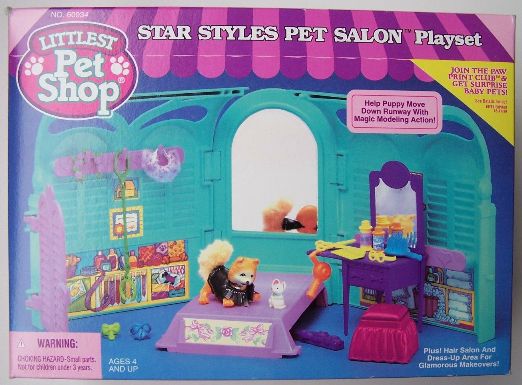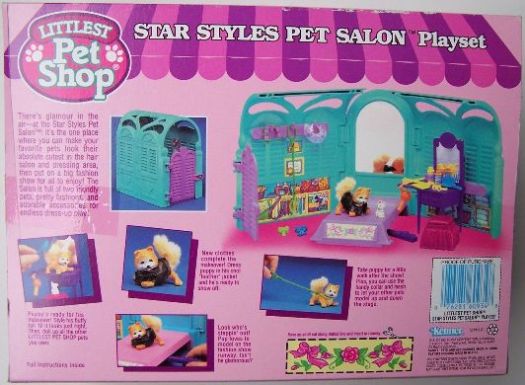 Name of Set
Pet Description
Playset and Accessory Description
Action

Star Style Pet Salon


Yellow dog with fluffy yellow tail; purple collar with silver paw-print


White mouse; pale blue collar with silver paw-print


Aqua salon playset with with pink door and runway


Purple vanity with mirror

Magenta seat

Purple magnetic wand

Black fabric leather jacket

Pink fabric skirt

Pink and green flower wreath necklace

Green leash

Neon Green or Teal Blue Accessories

Collar

Brush

Comb

Small bow with tag

Glasses

Short bottle

Yellow or Orange Accessories

Large bow

Tall bottle

Hair dryer

Scissors


Cardboard runway insert (cut from box) [Scan]

Label sheet

Instructions [PDF]


"Help Puppy Move Down Runway With Magic Modeling Action!"


"Plus! Hair Salon And Dress-Up Area for Glamorous Makeovers!


"Puppy's read for his makeover! Style his fluffy tail 'til it looks just right. Then, doll up all the other LITTLEST PET SHOP pets you own.


"New clothes complete the makeover! Dress puppy in his cool 'leather' jacket and he's ready to show off."


"Look who's steppin' out! Pup loves to model on the fashion show runway. Isn't he glamorous?"


"Take puppy for a little walk after the show! Plus, you can use the handy collar and leash to let your other pets model up and down the stage."

Note: Collectors of G1 and G2 My Little Pony will recognize this playset as being a recolor of the 1983 "Pretty Parlor" Playset. "My Pretty Parlor" playset, another similar set, was released in 1997.

---