---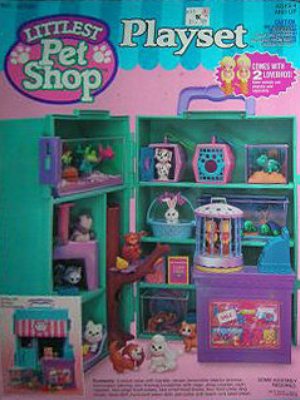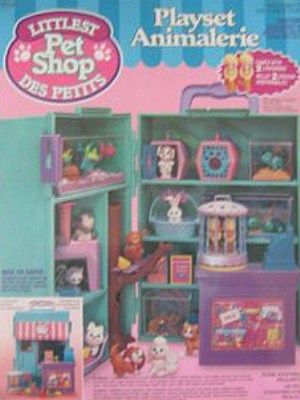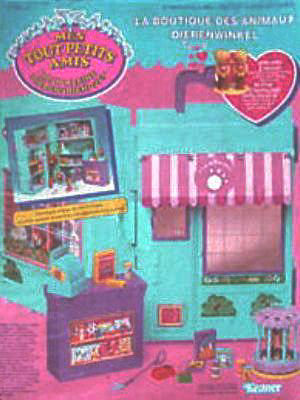 Name of Set
Pet Description
Playset and Accessory Description
Action

Pet Shop Playset


Yellow and pink lovebirds with black eyes perched on brown branch; blue collar with silver paw-print*


Yellow and pink lovebirds with blue eyes perched on brown branch; pink collar with silver paw-print*

Note: Both Lovebirds are permanently attached to the base of the cage






Blue plastic carrying case with purple carry handle and slide latches

Plastic pink and lavender striped awning

Blue plastic shelves (5) and dividers (2)

Purple plastic large window frame

Large clear plastic window

Purple plastic small window frame

Small clear plastic window

Cardboard window scene (cut from box) [Scan]


Violet and blue plastic bird cage top

Yellow bird cage base (with birds)

Purple plastic counter

Blue plastic cash register

Large purple plastic box

Large yellow plastic box

Small purple plastic box

Small blue plastic box

Blue plastic can

Two (2) yellow plastic cans

Purple plastic can

Yellow plastic bone-shaped brush

Purple plastic leash

Blue plastic collar

Red food/water dish with dark brown food

Green food dish with light brown food

Label sheet

Instructions [PDF]


"Your very own LITTLEST PET SHOP comes with love birds that really kiss!"


"Holds all LITTLEST PET SHOP animals and their homes."


"Activate Lovebirds by sliding lever on cage bottom."


"Littlest Pet Shop™ toys fit inside playset for convenient storage."

---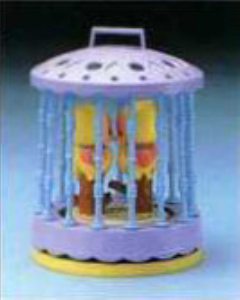 ---