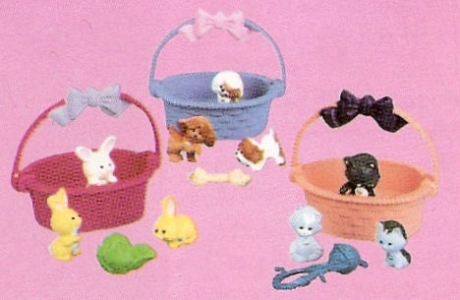 ---
Join the PAW PRINT CLUB™
Get a Surprise Basket of Baby Pets!

---

"We'll send you a surprise basket of baby puppies, kitties, or bunnies when you join the Paw Print Club™. Only Club members will get this pretty basket with 3 adorable baby pets, and a magical accessory to use with one of the babies. You also get a LITTLEST PET SHOP poster, stickers, membership card and newsletter filled with great stories, games, a preview of new pets, and more!"




To join the LITTLEST PET SHOP Paw Print Club™ you had to mail in $5.00 and ONE proof of purchase



*Offer expired December 31, 1996.


Pet Type
Pet Description
Accessories

Bunnies


Yellow baby bunny; silver paw-print

Yellow and white baby bunny; silver paw-print

White baby bunny; silver paw-print


Red basket with purple bow

Green lettuce


Puppies


Brown puppy; silver paw-print

Brown and white puppy; silver paw-print

Brown and white puppy; silver paw-print


Blue basket with pink bow

Bone


Kittens


Grey kitten; silver paw-print*

Black and grey kitten with white face; silver paw-print*

Black kitten and white kitten; silver paw-print

Note: The pose/color combo of the two kittens marked with an asterisk (*) and shown in the pamphlet photo are opposite to those that were actually produced. There are no examples of the two kittens pictured in the scanned photo above known to exist.


Pink basket with dark purple bow

Blue yarn toy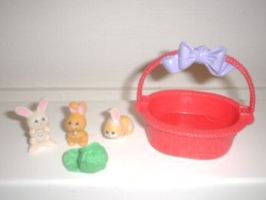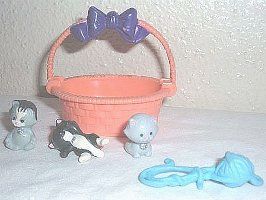 ---
---