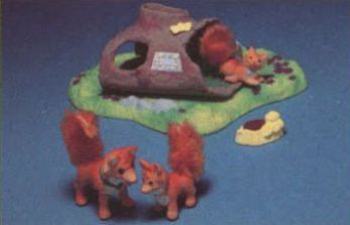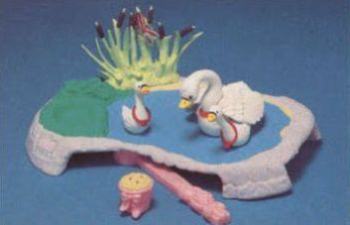 ---
"The LITTLEST PET SHOP is having a baby boom! Mommy swans, foxes, and deer are welcoming tiny, precious babies into their homes--just as you'll welcome the Newborn Families into your heart. Help raise all the babies with lots of love and fun-filled days!"

---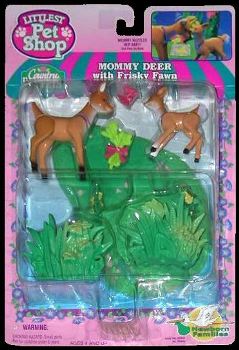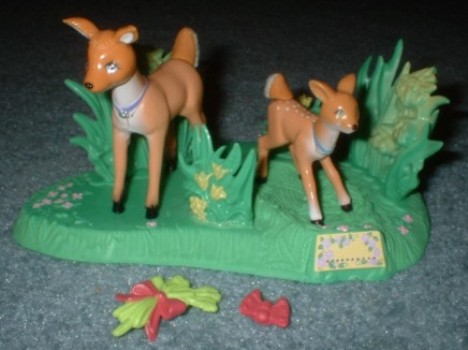 ---
Name of Set
Pet Description
Accessories
Action

Mommy Deer with Frisky Fawn

Mommy deer; purple collar with silver paw-print
Baby deer; blue collar with silver paw-print

Grassy platform with patches of grass
Bouquet of greens tied with a pink ribbon
Pink butterfly

"The glittery butterfly flits and lands on mommy deer's nose when mommy gets close! Isn't it magical?"
"What a dear mommy! She loveling bends down to nuzzle her sweet baby when you press her rear leg forward."
"That makes baby as happy as can be! Help her nod her head by pressing down her fluffy tail."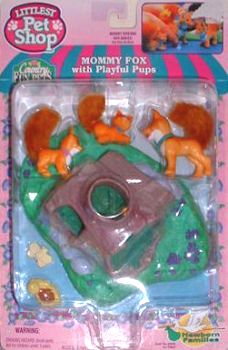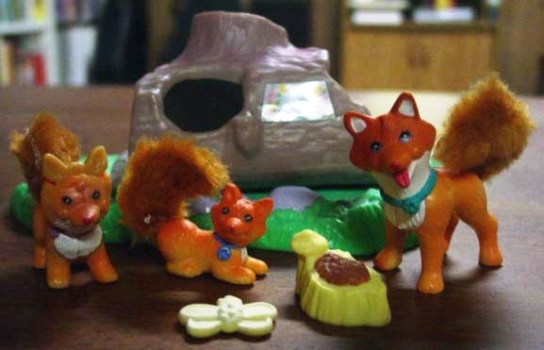 Name of Set
Pet Description
Accessories
Action

Mommy Fox with Playful Pups

Red mommy fox with fuzzy tail; aqua collar with aqua paw-print
Red baby fox; purple collar with purple paw-print
Red baby fox; blue collar with blue paw-print

Hollow log house on grassy platform
Yellow firefly
Yellow woodland food dish

"Let's have a jumpin' good time! First, hold the firefly to a light source and he'll glow in the dark!"
"Going my way? As mommy passes by, the friendly firefly jumps onto her tail for a little ride!"
"It's time to bathe baby! Press mommy's front leg back and she nods her head forward as if to groom her happy pup."
"That tickles! Ticklish pup wiggles her ears when you move her tail back and forth."
"Help mommy's littlest pup down the slippery log slide! What fun!"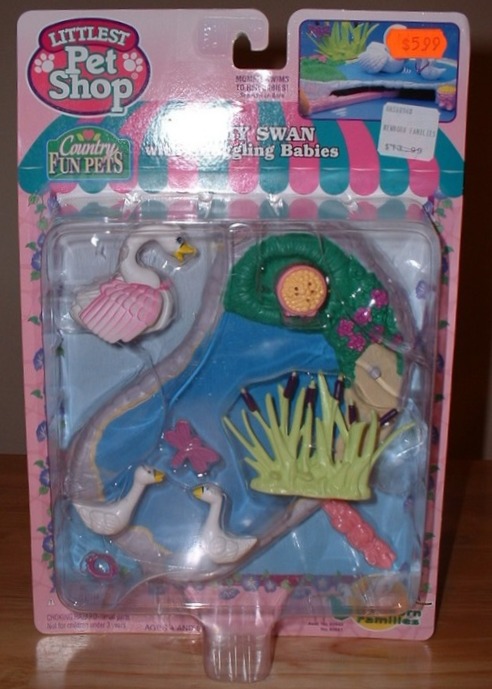 Name of Set
Pet Description
Accessories
Action

Mommy Swan with Snuggling Babies

Swan with pink wings; pink collar with pink paw-print
White baby swan with open beak
White baby swan with closed beak

Pond platform with cattails and nest
Pink magnetic wand
Pink bucket of yellow food
Purple dragonfly
Removeable purple collars with silver circle (x2)

"Mommy 'Swims' To Her Babies!"
Mommy flaps wings when head is pressed on
Dragonfly attaches onto one wing
---