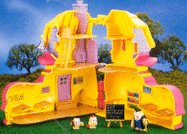 ---
"Mini Surprise Families™ are the newest addition to the Littlest Pet Shop! They've made their happy homes in the most surprising places, giving new life to old teapots, baskets and more. Collect them all and help fill all their tiny homes with the warmth of family love and happiness!"
---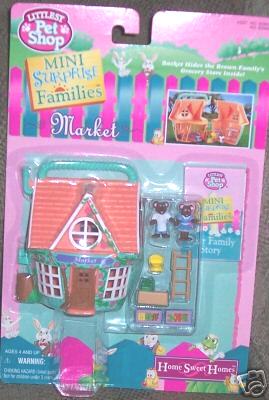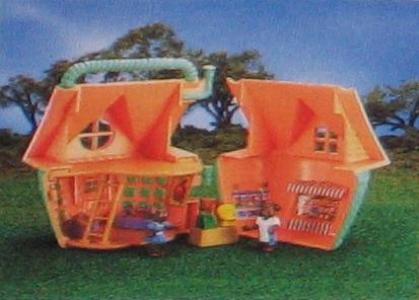 Name of Set
Pet Description
Accessories
Story

Market

Brown bear in white apron (Pops Brown)
Brown bear in blue dress (Ma Brown)

Peach and aqua market
Brown counter
Green cash register
Two purple fruit displays
Brown ladder
Yellow scale

---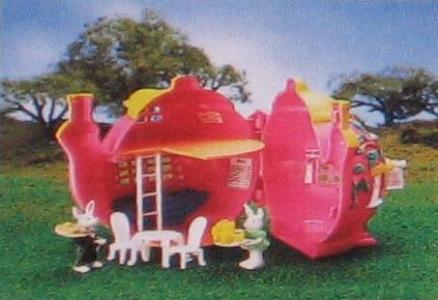 Name of Set
Pet Description
Accessories
Story

Cafe

White rabbit in black suit (Pa Hoppit)
White rabbit in pale green dress (Ma Hoppit)

Dark pink and yellow cafe in the shape of a teapot
White table and two chairs
Two white serving trays (one with yellow tea set, one with cookies)
White ladder
White sign

---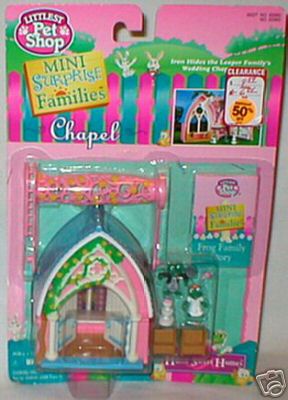 Name of Set
Pet Description
Accessories
Story

Chapel
(Gardenville Church)

Green frog in suit (Thomas Leaper)
Green frog in wedding dress (Lizzie Leaper)

Pink chapel with blue roof and fold-out handle shaped like an iron
Three-layer wedding cake
Flower bouquet
Knife
Hat

"You're invited to the wedding of Lizzie Leaper and Thomas Leaper at the Gardenville Church, which used to be an old iron for pressing clothes! So much planning has gone into every detail-from the bride's beautiful gown to the yummy three-tiered cake-that it's certain to be a perfect day!The family has invited all the Mini Surprise Families to the ceremony and reception afterwards. Come along and join in the fun!"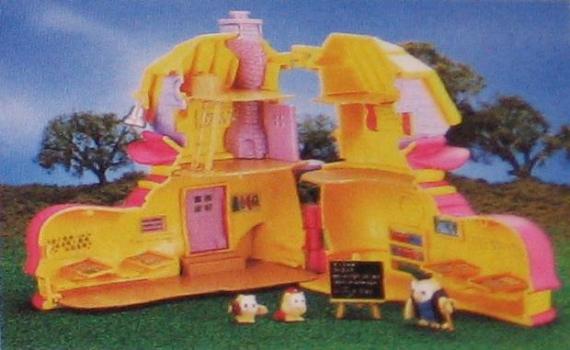 Name of Set
Pet Description
Accessories
Story

Schoolhouse

Owl in black teaching robes (Mrs. Tooter)
Baby owl holding teddy bear (Amy Tooter)
Baby owl holding red ball (Ian Tooter)

Schoolhouse shaped like a large pink boot with yellow interior (split in half when open)
Silver bell
Yellow ladder
Plastic chalkboard
Plastic brown stick

---
---
NOTE:
These were created by "Vivid Creations," which also created Teeny Weeny Families (• Love Them • Protect Them • Collect Them •) overseas. These were either identical to some sets in that line or matched very closely.




Update: I have also recently seen a version of the French(?) Packaging. The line was called "Mini Sweety" and was produced by Ideal. Also, in Italy they were known as !Piccini Picciò and were produced by GIG.

---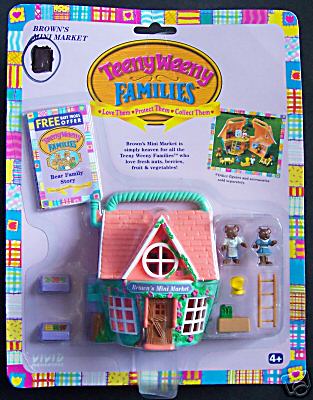 Name of Set
Pet Description
Accessories
Action

Brown's Mini Market

Brown bear in white apron
Brown bear in blue dress

Peach and aqua market
Brown counter
Green cash register
Two purple fruit displays
Brown ladder
Yellow scale
Bear Family Story

---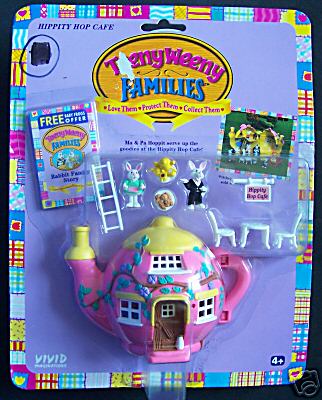 Name of Set
Pet Description
Accessories
Action

Hippity Hop Cafe

White rabbit in black suit
White rabbit in pale green dress

Dark pink and yellow cafe in the shape of a teapot
White table and two chairs
Two white serving trays (one with yellow tea set, one with cookies)
White ladder
White sign
Rabbit Family Story

---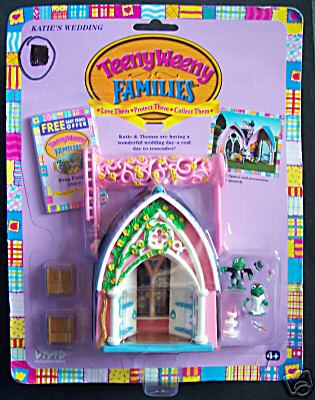 Name of Set
Pet Description
Accessories
Action

Katie's Wedding
(Teeny Weeny Families)

Green frog in suit
Green frog in wedding dress

Pink chapel with blue roof and fold-out handle shaped like an iron
Three-layer wedding cake
Flower bouquet
Knife
Hat
Frog Family Story

---
---