---
There are several toys from the same time period that are very similar to Littlest Pet Shop (not surprising since Disney's "101 Dalmatians" was also rereleased around this time making "pet" toys very popular). Intentional off-brand copies of Littlest Pet Shop animals also exist - these were made and sold by small companies not associated with Kenner. From what I understand, this is very common in the toy world. The molds that are used to create the toys in a factory are sold/copied/stolen and reused. These copies are sometimes called "fakies" by collectors. Many childhood "collections" that appear on eBay often have these sets along with with Puppy/Kitty in My Pocket and Mattel Barbie animals mixed in. Do not assume that these are unwanted, however! Many collectors enjoy collecting the different variations! :)

Please feel free to submit any pictures - preferably in packaging as that is what I'm focusing on for this page. Also, PLEASE list on eBay if you have any of these sets. You might find someone out there that would love a new addition to their collection! For any questions about IDing or selling, I recommend contacting styxlver_82 (Leah). She is basically the expert on fakies!

---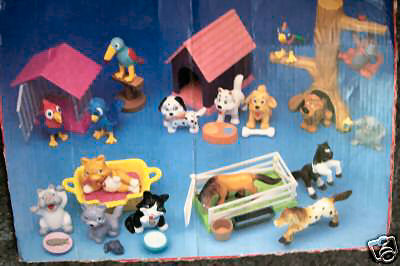 A very common sight in Littlest Pet Shop auctions are pieces from this set produced by the Jasman company. Included were birds with a bird cage, dogs with a doghouse, zoo animals with a tree, cats with a cat basket, and horses with a small corral. Of course this set also included small accessories such as food and water bowls. All of these figures look very different from Littlest Pet Shop, but are on a similar scale.

---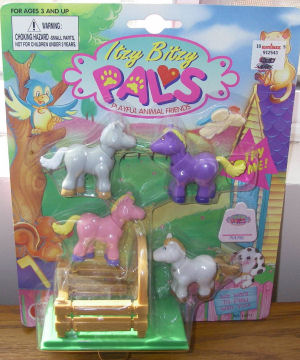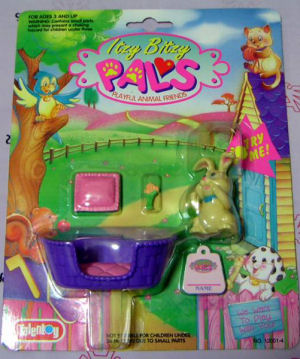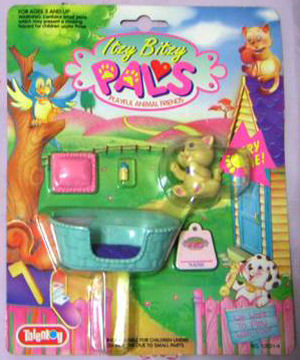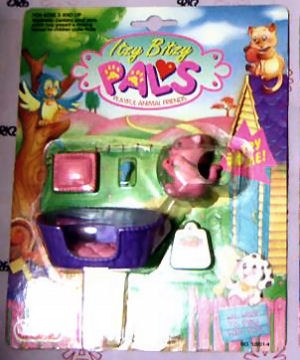 Another common toy line found included with vintage Littlest Pet Shop toys are Itzy Bitzy Pals (Playful Animal Friends) which were made by TalenToy. There was a variety of individual sets available, most of which included a single animal (dog, cat, horse, or bunny) and accessories. Each of the animals usually had a "motion" of some kind. I have also seen farm and zoo animals. This same line also includes sets called "Tiny Frontier Friends" which Native American figures and scenery along with horses. These figures look very different from Littlest Pet Shop, but are on a similar scale.

---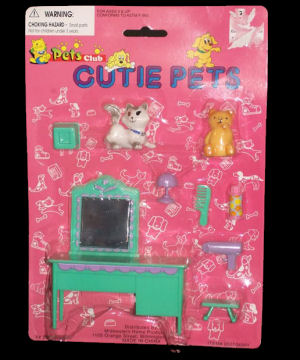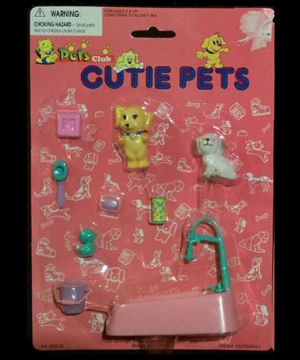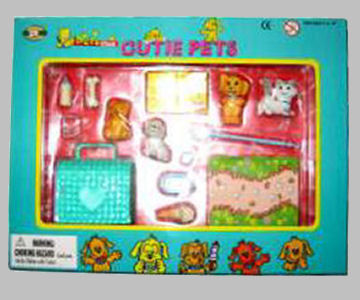 These toys are Pets Club Cutie Pets. This "brand" has a few different sets and includes some figures that are almost direct copies of the Kenner figures. Distributed by Midwestern Home Products. I am unsure which stores sold these sets.
---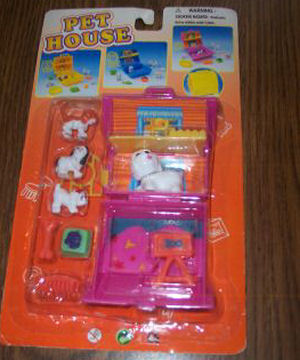 These toys are Pet House. I do not know the maker and am unsure which stores sold these sets. As you can see, there were at least three different versions. They consist of a playset carrier with a mommy, babies, and accessories.

---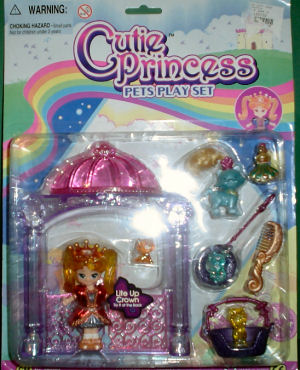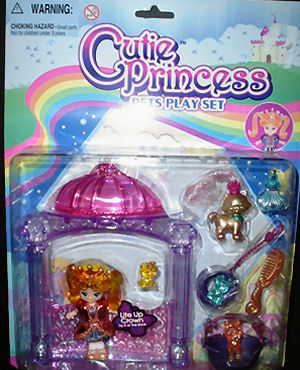 These interested steps were released by a company called Chap Mei. As you can see, they include a cat that is a copy of the pink cat in Kenner's "Dazzling Hair Friends - Curly Tail Trio" set. There are also sets that include a deer that is a copy of the orange deer that is included in the "Dazzling Hair Friends - Magic Waterfall Pets" set. Clear plastic colorful copies of Kenner's baby animal figures are included as well. There was no consistant color for the animals in the sets, so there are quite a few to collect!

Chap Mei also sold LPS-style baby animals in other (earlier?) sets that included a Dolly Pops/Little Snaps type of doll [not pictured].
---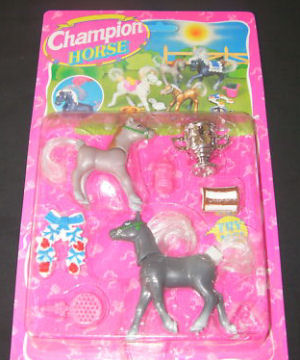 There are also several horse/pony copies! This set has the (not very) unique name "Champion Horse." There are several sets available in this line. Maker is unknown.

---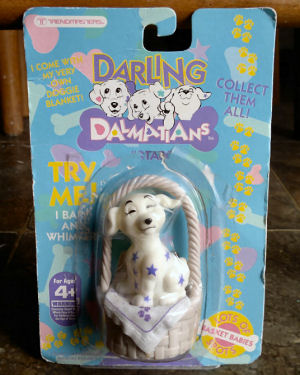 Darling Dalmatians, Darling Dalmatians Family, Darling Ponies Family, and Darling Zoo Troop Family by Trendmasters (1993). Some of these were also packaged as "Darling Animal Friends" (1994). Each set also included a fabric blanket with the Darling Animal logo on it.
---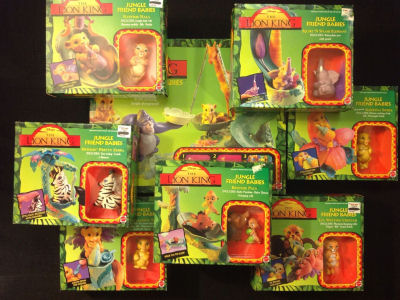 Disney's The Lion King was also released during the time Littlest Pet Shop was being made. The Jungle Friend Babies was a set of toys made by Mattel in 1994. Sets included Jungle Playground, Sleeping Simba, Naptime Nala, Lil Wetting Cheeta, Bedtime Pals, Snacking Simba, Swinging Pretty Zebra, and Squirt and Splash Elephant.
---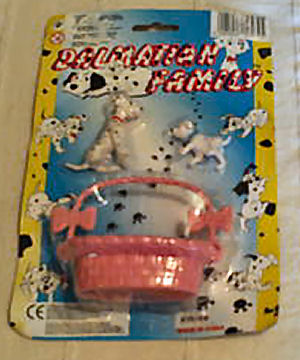 This set is obviously an "101 Dalmatians" knock-off, but I have included it in this list because the basket is similar to those in LPS and this type of basket is often included with another line of Littlest Pet Shop fakies (maker unknown).

---
---