Dressed'N Ready Pets™
(1995)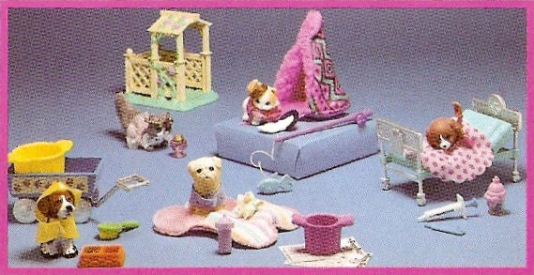 ---
"There's nothing so fun as playing dress-up! All the LITTLEST PET SHOP Dressed'N Ready Pets™ are specially dressed up and ready for whatever comes their way, from a dance recital... to a day chasing raindrops... to a wilderness fishing trip. Come along on all their exciting adventures!"

---
Name of Set
Pet Description
Accessories
Action

Kitty Goes Camping™

White cat with gold tail and sides of head; pastel green collar with silver paw-print

Fuzzy dark pink teepee with patterns on outside
Dark blue dish of spilled milk
Blue fish on purple fishpole
Pink bandana

"Kitty Chases Fish On Pole!"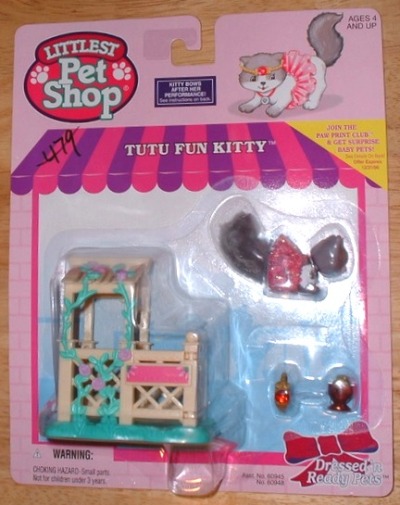 Name of Set
Pet Description
Accessories
Action

Tutu Fun Kitty™

Grey cat with fluffy tail and white front; light pink collar with silver paw-print

Rose-covered trellis gazebo attached to grassy platform
Glittery pink skirt
Gold crown with red jewel
Red cup of gold food

"Kitty Bows After Her Performance!"
"Kitty's dressed up just like a real ballerina! Her frilly tutu and sparkly tiara make her the center of attention."
"Sweet kitty rests in her rose-covered gazebo before her 'big ballet performance'!"
"The audience loved kitty's recital! Help her take a little bow by pushing up on her fluffy tail. See how her head bows down?"
"You can also help kitty reach for her fancy food dish when you press up on her tail. Yummy!"
Name of Set
Pet Description
Accessories
Action

Let It Pour Pup™

White and brown dog with "muddy" feet; red collar with silver paw-print

Blue wagon with yellow labels on side
Yellow sponge brush
Orange food/water dish with tan food
Yellow raincoat
Lime green bucket

Note: On the package, this set is pictured as including a yellow bucket and a green sponge brush. This seems to have been the prototype version.

"Wash Off Pup's Muddy Feet!"
Name of Set
Pet Description
Accessories
Action

Sweet Sleepy Puppy™

Flocked cream-colored bulldog with gold highlight; blue green collar with silver paw-print

Pink bone-shaped sleeping bag with stripes on the outside
Aqua plastic doll (same mold as Zoo Baby Chimp's pink doll)
Lavender bottle
Blue puppy blanket with velcro fastening
Magenta bucket
Two (2) Paper Newspapers [Scan]

Note: The newspapers are the "©1992, KENNER" edition. The "1995, KENNER" edition came with Baby Buddies Big Girl Baby.

"Pup Drinks And Wets!"
"Help sleepy pup get ready for bed! First, put his soft cuddly blanket around his shoulders to keep him warm."
"Fill up pup's before-bedtime bottle. Hold the tip in water, squeeze and release and you're ready to give him a sip."
"Here's your bottle, puppy! Give the bottle a little squeeze and puppy drinks it up. Make sure he's sitting on the newspaper, give his bottom a squeeze and he goes potty for you."
"Now puppy's all ready for sweet dreams. Tuck him into his fluffy sleeping bag and he'll be off to slumberland in no time!"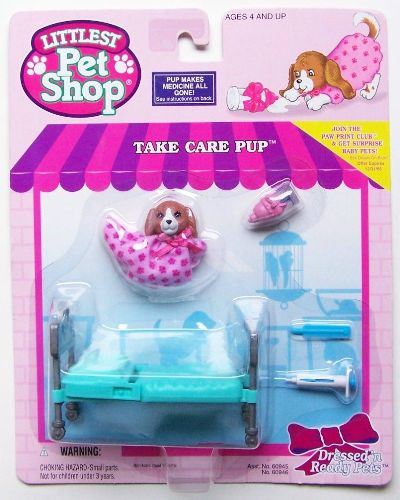 Name of Set
Pet Description
Accessories
Action

Take Care Pup™


Brown and white dog; Lavender collar with ? paw-print


Aqua and silver bed
Blue and white syringe
Blue thermometer
Clear bottle with pink top
Light pink "hospital gown" with dark pink paw-print pattern and a pink ribbon closure

"Pup Makes Medicine All Gone!"
"Let's pretend puppy's sick and you can make him all better! First, help pup put on his hospital gown."
"Doctor's orders: sick puppies need to take their medicine."
"Put the bottle to pup's mouth, tip it up and all the medicine disappears! That should help you feel well again in no time, pup."
---